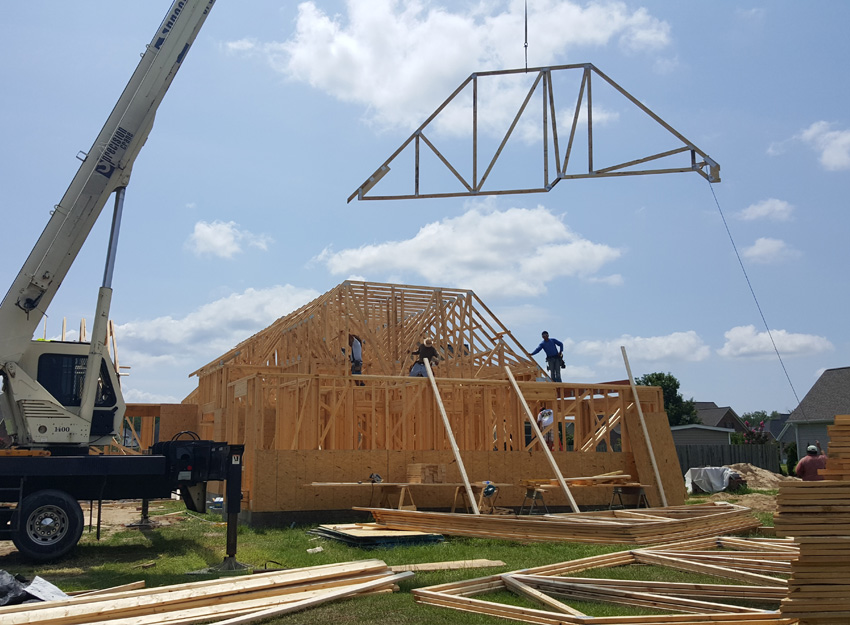 Roof trusses are used in many applications such as new construction or add on additions. Roof trusses can save up to 25% in construction time and labor costs. Anderson Truss Company is capable of producing almost any truss profile up to 75 feet long and 14 feet wide. With the best equipment in the business, you can be assured your trusses will be designed, engineered and built right the first time.
Roof trusses are the most widely used form of roof framing in the US today. Some of the advantages are:
A flexible, practical and fully engineered solution to your roofing requirements
Pre-fabricated trusses use up to 40% less lumber than a traditionally formed roof
Reduced labor costs on site
Quick erection of the roof structure
Reduction in site waste of materials
Saves space on site for other building activities
Residential Roof Trusses
Based on your home's design, Anderson Truss Company will design and manufacture your custom truss system using your exact specifications.
Commercial Roof Trusses
Many new commercial buildings and multi dwelling residential projects require custom, complex roof systems. Our design team will work with you to meet your needs.
Agricultural Roof Trusses
We can provide truss systems built to your exact specifications with clear-spans for free stall barns, machine sheds and other pole buildings.